We invite you to join in Prayer for The Salvation Army. Northern Division, as they prepare for a Prayer Walk in their community, Tuesday, June 2.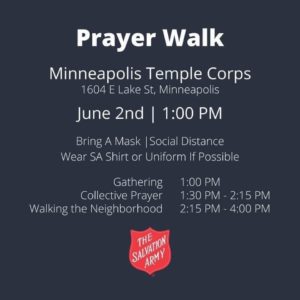 The diversity of the Human Race is intentionally created by God. Every human being, whatever their race, shade of color, and languages is His loving and precious child.
As followers of Jesus, we are outraged by the depravity of the human heart and about how people of color, especially black and brown people, are unfairly treated. As believers, we are called by our heavenly Father to stand up for justice, and George Floyd's death is another senseless death of a person of color that should disturb us and remind us of our calling as disciples of Jesus.
One of the passages in scripture that reminds us of our duty as believers and followers of Jesus that we often refer to is from Micah 6:8 that summons us to "Seek justice, love mercy and walk humbly with our God." As we long to do something directly against injustice in this country, I implore you to consider all three parts of this verse while seeking wisdom and discernment from the Holy Spirit about how to fight for what is right.
The Lord has shown to us what is right by his death on the cross; that was not just for one race or ethnic group, but for all people whoever they are, wherever they come from, and whatever shade of their skin. What does God require of us human beings in return for his sacrifice? To show His love, compassion, grace, and mercy to all people. May we seek justice for people of color in a way that shines light on who God is. May we show love and mercy as Jesus did amid our frustration, anger, toward the injustice that is being done to marginalized people of color in society. And may all our actions toward justice lead us in walking humbly before God.
In this manner, we invite you to join us in prayer for Salvationists in Minneapolis as they prepare for a prayer walk in their community.